As we approach the end of the year, Stacy Conley is putting the finishing touches on her beautiful home in Rock Springs. Light fixtures have been added, along with gorgeous stainless steel appliances in the kitchen and flooring is completed on the first level.
"My experience with building this first home has been exciting, humbling, challenging, frustrating and extremely educational. The process of developing a vision and to coordinate and witness its physical manifestation is awe-inspiring. I have been very pleased with the final outcome of the home." -Stacy
Walking into the home, you are welcomed with beautiful wood doors that truly establish the tone of the home. Each room you step into is filled with sophistication and charm. One of the biggest home trends coming to you in 2017 is the two-tone cabinets. According to Houzz, it is important to keep upper cabinets a white or neutral color. Then to add some flair, go with a darker wood tone for the lower cabinets. This style keeps the kitchen look classy, yet fabulous.
Stacy's house features beautiful, vaulted tray ceilings. It adds architectural design to each room and turns a room from simple to elegant. According to HGTV, these ceilings create visual depth in each of the rooms. The contemporary, rustic look of the sliding barn door gives the room a whole new atmosphere. Using reclaimed wood has become a new home trend to incorporate a new interior design element.
This is the PERFECT butler's pantry! It has plenty of storage to create an efficient preparation and staging area. It sets a whole different area aside from the kitchen to serve as an entertaining hub if desired. According to Kate Singer, it is a great connecting point between the kitchen and dining room. It is an excellent spot for a wine or coffee bar and for displaying serving pieces. Stacy's great room offers families the idea of togetherness. It extends into the kitchen area which generates an all around open space.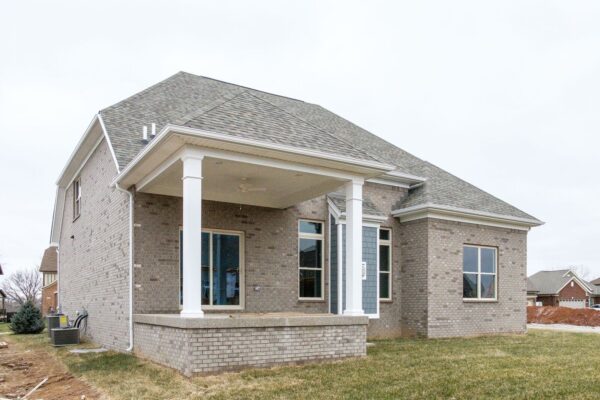 "Being involved in the apprentice builder program has opened a door of opportunity in my life that has not only helped me develop a new set of skills, but more importantly to increase my understanding and respect for my mother mentor through daily collaboration." -Stacy
Want to see where it all started? Check out the first article and second article.
For more pictures and information on the floor plan of Stacy's home, visit our website.